Tabula Mundi Tarot
for iPhone/iPad and Android devices
In Tabula Mundi Tarot, the Fool's Journey begins with a step into a wormhole, a rip in the fabric of space-time. Along the way, the Fool dances to the beat of the disc-jockey Magus, surfs with the Charioteer, and balances on a sword's edge with figure-skating Adjustment.
Tabula Mundi Tarot is the work of the Rosetta Tarot's creator, M. M. Meleen. Every card in Tabula Mundi Tarot remains faithful to the esoteric meaning of Aleister Crowley's masterpiece, Thoth Tarot. However, Tabula Mundi is not at all a reworking of Lady Frieda Harris' artworks for Thoth. Tabula Mundi follows Thelemic philosophy and mirrors the structure of Thoth. Each card is painted according to the fourfold color scale developed by the adepts of the Golden Dawn, drawing on Alchemy, Astrology, and the Qabalah, often with an underlying sacred geometry grid.
As the Fool steps into the wormhole, he meets these modern interpretations of the Thoth archetypes, a vivid panorama of cognitive imagery. The Fool encounters the whole of creation with art that speaks to our time. Here are new inspiring images of the universal Tree of Life, updated for the discerning 21st century occultist.
Screenshots
Just a taste of the beautiful and unique artwork of this deck.

Purchase for Apple Devices

Purchase for Android Devices
---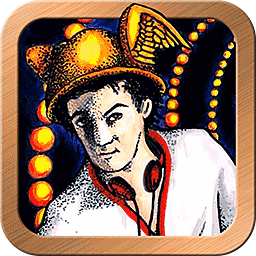 Features
*Intuitive, elegant interface is easy for beginners and experts
*Gorgeous full screen, high-resolution card images
*Full support for all devices on both iOS (8.0 or newer) and Android (4.0.3 or newer)
*Sophisticated journal
*Includes full and unabridged book
*20 spreads built in
*Design your own layout with Free Form
*Allow reversed cards or not
*Option to use Major Arcana only
*Zoom in to enlarge card details
*Share reading via email, and on iOS via Facebook or Twitter
*Animated shuffle & cut
*Optional voice prompts
*Customize with your own card meanings & reading cloths
*Many adjustable settings
*Available in English only