Shining Tribe Tarot
for iPhone/iPad and Android devices
Shining Tribe Tarot takes us to a mythic realm inspired by fifty thousand years of culturally diverse art. Sourced from ancient rock carvings, shamanic art from global cultures, the Kabbalah, and Jungian psychology, Shining Tribe is powerful, sophisticated, and utterly unique.
In Shining Tribe, the suits are renamed as Trees, Rivers, Birds, and Stones, and the royalty have become The Place, The Knower, The Gift, and The Speaker. The Major Arcana provides a map of the soul's journey from birth to enlightenment, and the Minors show the kaleidoscope of human experience in all its varied forms.
Author/artist Rachel Pollack is one of the world's foremost authorities on Tarot. "All of us who work with Tarot form a kind of tribe, one whose roots go back many thousands of years before the actual appearance of Tarot cards. This is the tribe of diviners, those special magicians, shamans, psychics, and visionaries who use cards, or sticks, or trees, or stones, or shells to communicate with the Gods."
Screenshots
Just a taste of the beautiful and unique artwork of this deck.

Purchase for Apple Devices

Purchase for Android Devices
---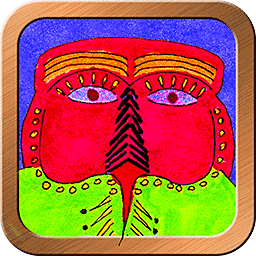 Features
*Intuitive, elegant interface is easy for beginners and experts
*Gorgeous full screen, high-resolution card images
*Full support for all devices on both iOS (8.0 or newer) and Android (4.0.3 or newer)
*Sophisticated journal
*Includes full and unabridged book
*22 spreads built in
*Design your own layout with Free Form
*Allow reversed cards or not
*Option to use Major Arcana only
*Zoom in to enlarge card details
*Share reading via email, and on iOS via Facebook or Twitter
*Animated shuffle & cut
*Optional voice prompts
*Customize with your own card meanings & reading cloths
*Many adjustable settings
*Available in English only