Scrying Ink Lenormand
for iPhone/iPad and Android devices
Siolo Thompson brings her signature minimalist art style to the images in Scrying Ink Lenormand, a deck that shares the same refreshingly modern qualities that attracted enthusiasm for her Linestrider Tarot.
The thirty-six cards we know today as Lenormand decks are named after Mademoiselle Marie Anne Lenormand, a cartomancer who lived in Paris at the time of the French Revolution. These simple yet eloquent cards, with images like Ship, Stars, and Child, give a different flavor to readings compared to Tarot. Lenormand readings tend to be focused on more practical matters than Tarot, and the cards are considered easier to interpret.
Siolo's original guidebook for Scrying Ink is filled with helpful commentary easy enough for beginners to Lenormand, but rich enough to engage experienced readers. Scrying Ink's images take form in just a few lines. Enlivened with bright swipes and splatters of watercolor, with superb use of negative space and command of decorative detail, Siolo Thompson has created a masterful Lenormand deck.
Screenshots
Just a taste of the beautiful and unique artwork of this deck.

Purchase for Apple Devices

Purchase for Android Devices
---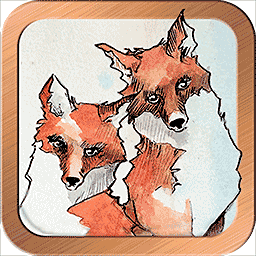 Features
*Intuitive, elegant interface is easy for beginners and experts
*Gorgeous full screen, high-resolution card images
*Full support for all devices on both iOS (6.0 or newer) and Android (4.0.3 or newer)
*Sophisticated journal
*Includes substantial card meanings
*12 spreads built in
*Design your own layout with Free Form
*Allow reversed cards or not
*Option to use Major Arcana only
*Zoom in to enlarge card details
*Share reading via email, and on iOS via Facebook or Twitter
*Animated shuffle & cut
*Optional voice prompts
*Customize with your own card meanings & reading cloths
*Many adjustable settings
*Available in English only