Dondorf Lenormand
for iPhone/iPad and Android devices
Discover why Tarot readers everywhere are branching out to Lenormand! Here you will find two versions of the Dondorf Lenormand deck: the first printing from 1873, as well as a printing from the second set of engraving plates in 1878.
The images in Lenormand are simpler, more straightforward, and easier to interpret than Tarot. In Lenormand, cards take shades of meaning from the neighboring cards. A row of Lenormand cards can be read like a sentence. Learn card meanings while playing with the app!
Named for a famous card reader from the time of the French Revolution, Mademoiselle Marie Anne Lenormand read cards for many historical figures. These 36 images came to be called the Petit Lenormand cards after Mademoiselle Lenormand had died.
The Dondorf Lenormand is a classic historical deck. Printed in Germany, the deck was sold for sixty years and used in every country in Europe. This definitive deck is now available in pixels, re-tooled for the 21st Century by The Fool's Dog.
Screenshots
Just a taste of the beautiful and unique artwork of this deck.

Purchase for Apple Devices

Purchase for Android Devices
---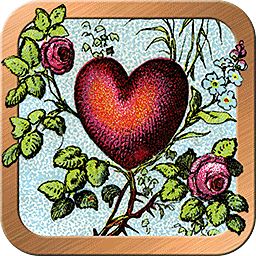 Features
*Intuitive, elegant interface is easy for beginners and experts
*Gorgeous full screen, high-resolution card images
*Full support for all devices on both iOS (6.0 or newer) and Android (4.0.3 or newer)
*Sophisticated journal
*Includes introduction and brief card meanings
*12 spreads built in
*Design your own layout with Free Form
*Zoom in to enlarge card details
*Share reading via email, and on iOS via Facebook or Twitter
*Animated shuffle & cut
*Optional voice prompts
*Customize with your own card meanings & reading cloths
*Many adjustable settings
*Available in English only