Joie de Vivre Tarot
for iPhone/iPad and Android devices
Joie de Vivre Tarot takes place in a wondrous realm of fantastical characters reminiscent of Dr. Seuss and Alice in Wonderland. Joie de Vivre means Joy of Life in French. This Tarot is both whimsical and wise, and has a charming zest for life.
Paulina Cassidy has endowed each character in Joie de Vivre Tarot with a witty and appropriate persona. Thus we find Vitality, the winged merlion, as The World, and Benevolence donating to Hopeful in the Six of Pentacles. The King of Wands is named Dynamo, and Bliss is the Six of Cups, with her merbunny friends, Charity and Innocence.
While Joie de Vivre is a good deck for beginners, the deck's intricate art and succinct wisdom offer lasting insight to the most discerning Tarot readers. Here you will find a joyous exuberance that will inspire you for years to come.
Screenshots
Just a taste of the beautiful and unique artwork of this deck.

Purchase for Apple Devices

Purchase for Android Devices
---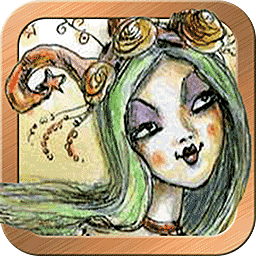 Features
*Intuitive, elegant interface is easy for beginners and experts
*Gorgeous full screen, high-resolution card images
*Full support for all devices on both iOS (6.0 or newer) and Android (4.0.3 or newer)
*Sophisticated journal
*Includes unabridged compact book
*19 spreads built in
*Design your own layout with Free Form
*Allow reversed cards or not
*Option to use Major Arcana only
*Zoom in to enlarge card details
*Share reading via email, and on iOS via Facebook or Twitter
*Animated shuffle & cut
*Optional voice prompts
*Customize with your own card meanings & reading cloths
*Many adjustable settings
*Available in English only