The Housewives Tarot
for iPhone/iPad and Android devices
According to gossip, the Housewives Tarot was introduced by housewife extraordinaire Marlene Louise Wetherbee in the early 1950s. One fateful afternoon at the bridge table, Marlene decided the time had come to reveal the secret of her suburban bliss: the Housewives Tarot.
Should you bring potato salad or deviled ham to the potluck supper? Is your kitchen forever spotless and lemon fresh? Does your mother-in-law adore you? All these dilemmas, and many more, are answered by domestic divination with the Housewives Tarot, now optimized for the 21st century on your mobile device.
Screenshots
Just a taste of the beautiful and unique artwork of this deck.

Purchase for Apple Devices

Purchase for Android Devices
---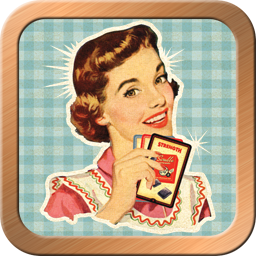 Features
*78 divinely domestic Tarot cards and a 96 page guide book.
*5 built in layouts, free form option, easy-to-use journal, share your readings.
*Intuitive, elegant interface is easy for beginners and experts
*Gorgeous full screen, high-resolution card images
*Full support for all devices on both iOS (6.0 or newer) and Android (4.0.3 or newer)
*Includes a complete 96 page book on The Housewives Tarot
*Sophisticated Journal
*Multiple layout options built in
*Design your own layout with Free Form
*Allow reversed cards or not
*Option to use Major Arcana only
*Zoom in to enlarge card details
*Share reading via email, and on iOS via Facebook or Twitter
*Animated shuffle & cut
*Optional voice prompts
*Customize with your own card meanings & reading cloths
*Many adjustable settings
*Available in English only