The Counterculture Tarot
for iPhone/iPad
The Counterculture Tarot is a trove of insight and wisdom about the tumultuous 1960s. Here you will find a profound view of the 1960s seen through the lens of Tarot. Each Tarot image is a candid photograph shot by the author during the era.
William Cook Haigwood was a journalist and photographer in that era. He has matured into a seasoned sage, a wise philosopher who takes us on a magical and mysterious tour of the messy, intense, fertile, and deeply influential counterculture movement.
With Timothy Leary as The Magician, The Counterculture Tarot delves into the social ferment in the 1960s: the hippies, the Vietnam War protests, the student uprisings, emerging feminism, and the political, drug, and festival scenes. All of the urgent demands for social justice, peace and freedom in their passion, commitment and intensity are here.
Many images foreshadow future events, like the Seven of Swords, featuring a photograph of not-yet-President Reagan chatting with the mother of not-yet-kidnapped Patty Hearst, or even foreshadow whole social movements that continue today.
The Counterculture Tarot is not only for Tarot enthusiasts, although it is a brilliant achievement in the philosophy of Tarot. The Counterculture Tarot is for anyone interested in the 1960s and their enduring influence today.
Screenshots
Just a taste of the beautiful and unique artwork of this deck.

Purchase for Apple Devices
---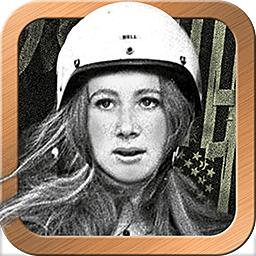 Features
*Intuitive, elegant interface is easy for beginners and experts
*Gorgeous full screen, high-resolution card images
*Full support for all devices on both iOS (6.0 or newer)
*App includes more than one third of William Cook Haigwood's 600+ page magnum opus
*Sophisticated journal
*18 spreads built in
*Design your own layout with Free Form
*Allow reversed cards or not
*Option to use Major Arcana only
*Zoom in to enlarge card details
*Share reading via email, and on iOS via Facebook or Twitter
*Animated shuffle & cut
*Optional voice prompts
*Customize with your own card meanings & reading cloths
*Many adjustable settings
*Available in English only