Tarot of the Zirkus Mägi
for iPhone/iPad and Android devices
Tarot of the Zirkus Magi takes us into the world of an old-time circus. With its glossy stars and rough roustabouts, its dazzling performances and secret nightmares, a traveling carnival is a perfect milieu for a Tarot. All of Tarot's deep mysteries and inner truths, all of the fondest hopes and dashed expectations of the human drama, are here, under the big top.
With imagery from the RWS deck but card titles from Thoth, Tarot of the Zirkus Magi gives the Tarot scenes an edgy twist. Art connoisseurs and occultists alike will enjoy this fantastical circus! The app includes short meanings for each card, and See Them Dance, the novel that inspired the Tarot deck.
Screenshots
Just a taste of the beautiful and unique artwork of this deck.

Purchase for Apple Devices

Purchase for Android Devices
---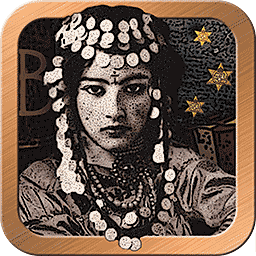 Features
*Intuitive, elegant interface is easy for beginners and experts
*Gorgeous full screen, high-resolution card images
*Full support for all devices on both iOS (6.0 or newer) and Android (4.0.3 or newer)
*Sophisticated journal
*Includes full and unabridged book as well as the novel that inspired the deck
*22 spreads built in
*Design your own layout with Free Form
*Allow reversed cards or not
*Option to use Major Arcana only
*Zoom in to enlarge card details
*Share reading via email, and on iOS via Facebook or Twitter
*Animated shuffle & cut
*Optional voice prompts
*Customize with your own card meanings & reading cloths
*Many adjustable settings
*Available in English only