The Wildwood Tarot
for iPhone/iPad and Android
Enter the Wildwood, and take a mystical journey rich in shamanic wisdom and forest lore. Inspired by the mythology of pre-Celtic Europe, the 78 exquisite cards and the accompanying book guide you back to a time of ancestral wisdom and Earth mysteries. In the Wildwood, our partnership with archetypal characters and magical creatures is as natural as breathing.
The dream team of Mark Ryan, John Matthews and Will Worthington has created a powerful tool to access your inner mystic. Enter the Wildwood today: those who journey within emerge forever changed.
Screenshots
Here is a taste of the beautiful and unique artwork of this deck.

Purchase for Apple Devices

Purchase for Android Devices
---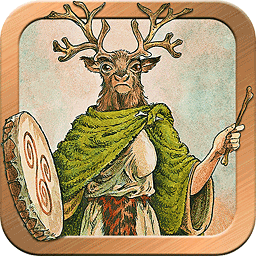 Features
78 mesmerizing Tarot cards and a 160 page guidebook.
Dramatic prompts voiced by Mark Ryan himself.
8 built in spreads, free form option, easy-to-use journal, share your readings.
Full support for all devices on both iOS (6.0 or newer) and Android (4.0.3 or newer).
*Intuitive, elegant interface is easy for beginners and experts
*Gorgeous full screen, high-resolution card images
*Includes a complete book on Tarot
*Sophisticated Journal
*Multiple spread options built in
*Design your own spread with Free Form
*Many adjustable settings
*Allow reversed cards or not
*Option to use Major Arcana only
*Zoom in to enlarge card details
*Share reading via Facebook (iOS 6+), Twitter (iOS 5+), or email
*Animated shuffle & cut
*Optional voice prompts
*Customize with your own card meanings & reading cloths