Oracle of Visions
for iPhone/iPad and Android devices
Explore fresh perspectives, with Oracle of Visions by Ciro Marchetti. This lavish fifty-two card extravaganza features all of Ciro's artistic signatures: carnival jesters, steampunk devices, masks, and gorgeous art. Although the cards include some figures from history, Oracle of Visions is a very modern deck. Ciro deliberately created the scenes to be immediately accessible, and the cards are easier to read than Tarot.
The cards fall into four loose categories, Situations, Emotions, Actions, and Behavior. Oracle of Visions is designed to expand our accustomed frames of reference, to help us explore our self-imposed limitations, and step away from our automatic assumptions. These changes in viewpoint can bring breakthroughs in understanding, and help us identify what we bring to challenging situations in our lives. By seeing ourselves and the roles we play in a new light, we can improve the day to day choices we make, and manifest long term positive changes in our lives.
Screenshots
Just a taste of the beautiful and unique artwork of this deck.

Purchase for Apple Devices

Purchase for Android Devices
---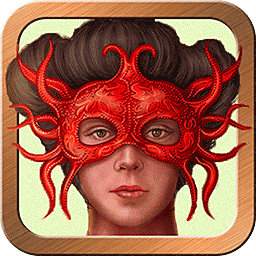 Features
*Intuitive, elegant interface is easy for beginners and experts
*Gorgeous full screen, high-resolution card images
*Full support for all devices on both iOS (6.0 or newer) and Android (4.0.3 or newer)
*Sophisticated journal
*Includes full and unabridged book
*7 spreads built in
*Design your own layout with Free Form
*Allow reversed cards or not
*Option to use Major Arcana only
*Zoom in to enlarge card details
*Share reading via email, and on iOS via Facebook or Twitter
*Animated shuffle & cut
*Optional voice prompts
*Customize with your own card meanings & reading cloths
*Many adjustable settings
*Available in English only