Vision Quest Tarot
for iPhone/iPad and Android devices
Vision Quest Tarot is a respectful and knowledgeable homage to Native American religious beliefs and practices. Vision Quest highlights spiritual themes held in common among diverse Native American tribes.
The deck's serene art and deceptively simple text deepen our understanding of the mysteries of the Earth, and open a door to a more natural way of life. Vision Quest Tarot has been encouraging new insights among people interested in Native American spirituality for more than a decade, an enduring deck beloved by many.
The deck is structured more like Thoth than RWS. Diverse scenes of tribal life comprise the Majors and the royalty. Card titles of the Majors have been recognizably renamed. The four suits are Fire, Water, Earth and Air. The pips show symbolic objects of the four elements, and most have a keyword.
Screenshots
Just a taste of the beautiful and unique artwork of this deck.

Purchase for Apple Devices

Purchase for Android Devices
---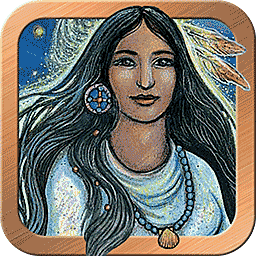 Features
*Intuitive, elegant interface is easy for beginners and experts
*Gorgeous full screen, high-resolution card images
*Full support for all devices on both iOS (6.0 or newer) and Android (4.0.3 or newer)
*Sophisticated journal
*Includes unabridged compact book
*21 spreads built in
*Design your own layout with Free Form
*Allow reversed cards or not
*Option to use Major Arcana only
*Zoom in to enlarge card details
*Share reading via email, and on iOS via Facebook or Twitter
*Animated shuffle & cut
*Optional voice prompts
*Customize with your own card meanings & reading cloths
*Many adjustable settings
*Available in English only