The Prairie Tarot
for iPhone, iPad, and iPod Touch
The American West has captured the imagination of generations. Now you can enter the mythic American West through The Prairie Tarot! All the familiar mystical meanings of Tarot are conveyed in 78 images of the prairie, with symbolic card meanings and descriptions by Robin Ator.
Screenshots
Just a taste of the beautiful and unique artwork of this deck.

Purchase for Apple Devices
---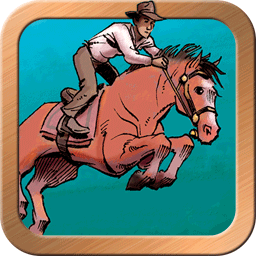 Features
78 archetypal images of the American West, plus optional Jackalope card.
12 built in layouts, free form option, easy-to-use journal, share your readings.
*Intuitive, elegant interface is easy for beginners and experts
*Gorgeous full screen, high-resolution card images
*Full support for all iOS devices (6.0 or newer)
*Includes a complete book on Tarot
*Sophisticated Journal
*Multiple layout options built in
*Design your own layout with Free Form
*Allow reversed cards or not
*Option to use Major Arcana only
*Zoom in to enlarge card details
*Share reading via Facebook (iOS 6+), Twitter (iOS 5+), or email
*Animated shuffle & cut
*Optional voice prompts
*Customize with your own card meanings & reading cloths
*Many adjustable settings