Night Sun Tarot
for iPhone/iPad and Android devices
Night Sun Tarot transports us to a mystic realm of deepest shadow and incandescent enlightenment. This Tarot distills a potent multicultural brew, combining diverse metaphysical systems. Each card is rich with elemental, astrological, planetary, Cabalistic, and other occult symbols; the images draw on Crowley's work as well as the RWS.
With Night Sun Tarot, Fabio Listrani has created a unique and powerful synthesis, with edgy, intensely magical scenes that evoke art from graphic novels. Not for the lazy or the faint of heart, this deck is ideal for courageous intermediate to advanced Tarotistes, and for serious occultists.
Screenshots
Just a taste of the beautiful and unique artwork of this deck.

Purchase for Apple Devices

Purchase for Android Devices
---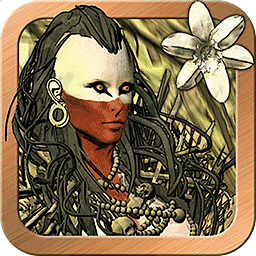 Features
*Intuitive, elegant interface is easy for beginners and experts
*Gorgeous full screen, high-resolution card images
*Full support for all devices on both iOS (8.0 or newer) and Android (4.0.3 or newer)
*Sophisticated journal
*Includes introduction and brief card meanings
*19 spreads built in
*Design your own layout with Free Form
*Allow reversed cards or not
*Option to use Major Arcana only
*Zoom in to enlarge card details
*Share reading via email, and on iOS via Facebook or Twitter
*Animated shuffle & cut
*Optional voice prompts
*Customize with your own card meanings & reading cloths
*Many adjustable settings
*Card meanings available in English, Spanish, French, Italian, and German