Necronomicon Tarot
for iPhone/iPad and Android devices
At the beginning of the twentieth century, legendary horror author H.P. Lovecraft wrote of an unmentionable Necronomicon written by a madman, a vile volume describing a dark magic that defeats death. A hundred years later, Donald Tyson wove Lovecraft's myths and whispers of the dread grimoire into this Tarot deck.
Now Necronomicon Tarot slithers interactively onto your phone and tablet, bringing the phantasmagorical desert wanderings of Alhazred viscerally to life. Every tentacle, every monstrous scene, is captured by gifted fantasy artist Anne Stokes, all organized to remain true to the structure of RWS Tarot.
Enter the world of the accursed poet, and follow his desert wanderings as he seeks communion with the dead in Necronomicon Tarot!
Screenshots
Just a taste of the beautiful and unique artwork of this deck.

Purchase for Apple Devices

Purchase for Android Devices
---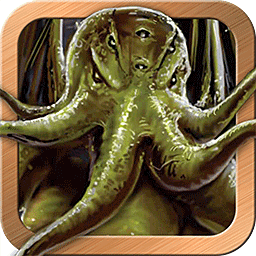 Features
*Intuitive, elegant interface is easy for beginners and experts
*Gorgeous full screen, high-resolution card images
*Full support for all devices on both iOS (6.0 or newer) and Android (4.0.3 or newer)
*Sophisticated journal
*Includes full and unabridged book
*19 spreads built in
*Design your own layout with Free Form
*Allow reversed cards or not
*Option to use Major Arcana only
*Zoom in to enlarge card details
*Share reading via email, and on iOS via Facebook or Twitter
*Animated shuffle & cut
*Optional voice prompts
*Customize with your own card meanings & reading cloths
*Many adjustable settings
*Available in English only