Linstrider Tarot
for iPhone/iPad and Android devices
Dancing on the edges of magic and logic, the edges of conscious and unconscious, The Linestrider Tarot's graceful images take form in just a few lines. Can we continue to draw inspiration from the edges while we make forward progress on The Fool's Journey? This is the challenge of Line Striding.
Author/artist Siolo Thompson's minimalist images whisper gently, with careful intricacies and soft strokes of color. The Tarot archetypes in Linestrider are imaginatively wide-ranging, including animals as well as humans, all recognizably framed for people familiar with the RWS cards.
This deck speaks quietly, with understatement, subtlety, and nuance. The Linestrider Tarot is best for people seeking gentle prompts to their intuition, eliciting divinatory insights from the reader's inner oracle. Do you hear the still, small voice coming from deep within you?
Screenshots
Just a taste of the beautiful and unique artwork of this deck.

Purchase for Apple Devices

Purchase for Android Devices
---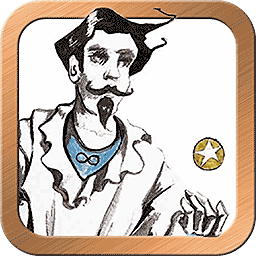 Features
*Intuitive, elegant interface is easy for beginners and experts
*Gorgeous full screen, high-resolution card images
*Full support for all devices on both iOS (6.0 or newer) and Android (4.0.3 or newer)
*Sophisticated journal
*Includes full and unabridged book
*20 spreads built in
*Design your own layout with Free Form
*Allow reversed cards or not
*Option to use Major Arcana only
*Zoom in to enlarge card details
*Share reading via email, and on iOS via Facebook or Twitter
*Animated shuffle & cut
*Optional voice prompts
*Customize with your own card meanings & reading cloths
*Many adjustable settings
*Available in English only