Deviant Moon Tarot
for iPhone/iPad and Android devices
Deviant Moon Tarot is set in a moonlit Renaissance realm, dark with smokestacks, populated by the sad, the mad, and the bad. The deck's arcane allure has made it a modern classic. Loosely modeled on the RWS deck, every card in Deviant Moon has its own subtle, unique reading points.
Deviant Moon Tarot takes an unsparingly clear-eyed view of human behavior, illuminating our struggles and limitations with wry candor. The deck offers shrewd advice, and sometimes even sly humor. An accessible wisdom tool for our times, Deviant Moon Tarot is spectacularly oracular.
This enlightening Tarot is especially recommended for deep personal work, and for analyzing difficult situations with razor-edged clarity. Deviant Moon Tarot is not for the faint of heart: it takes courage to look at yourself, your life, and your compatriots with ruthless honesty.
Screenshots
Just a taste of the beautiful and unique artwork of this deck.

Purchase for Apple Devices

Purchase for Android Devices
---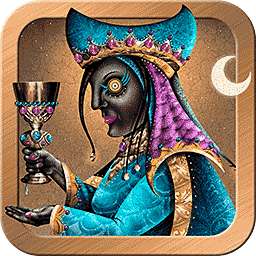 Features
*Intuitive, elegant interface is easy for beginners and experts
*Gorgeous full screen, high-resolution card images
*Full support for all devices on both iOS (8.0 or newer) and Android (4.0.3 or newer)
*Sophisticated journal
*Includes compact book
*19 spreads built in
*Design your own layout with Free Form
*Allow reversed cards or not
*Option to use Major Arcana only
*Zoom in to enlarge card details
*Share reading via email, and on iOS via Facebook or Twitter
*Animated shuffle & cut
*Optional voice prompts
*Customize with your own card meanings & reading cloths
*Many adjustable settings
*Available in English only