Dark Goddess Tarot
for iPhone/iPad and Android devices
The Goddesses arise, and their magick is afoot in Dark Goddess Tarot! Here you will find a multicultural array of goddesses carrying the meanings of the Tarot. The goddesses in this deck are rooted in cultures both ancient and modern, and their myths carry the archetypal Tarot meanings with grace and power. The images of the goddesses reference the artistic styles of their home cultures, with simple yet eloquent icons.
Ellen Lorenzi-Prince is an inspiring religious visionary dedicated to the renaissance of the Divine Feminine. She has conjured 78 goddesses with messages that teach strength of character, wisdom, and discernment. The deck is illustrated with vivid, engaging archetypes, unified by the simplicity of the images and the palette of colors. Dark Goddess Tarot is a profoundly oracular deck, a Tarot that encourages psychological healing and promotes spiritual empowerment, especially for women.
Screenshots
Just a taste of the beautiful and unique artwork of this deck.

Purchase for Apple Devices

Purchase for Android Devices
---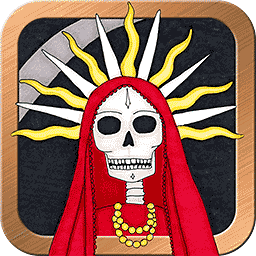 Features
*Intuitive, elegant interface is easy for beginners and experts
*Gorgeous full screen, high-resolution card images
*Full support for all devices on both iOS (8.0 or newer) and Android (4.0.3 or newer)
*Sophisticated journal
*Includes full and unabridged book
*23 spreads built in
*Design your own layout with Free Form
*Allow reversed cards or not
*Option to use Major Arcana only
*Zoom in to enlarge card details
*Share reading via email, and on iOS via Facebook or Twitter
*Animated shuffle & cut
*Optional voice prompts
*Customize with your own card meanings & reading cloths
*Many adjustable settings
*Available in English only