Bonefire Tarot
for iPhone/iPad and Android devices
Here's a deck on fire! The Bonefire Tarot is a spicy post-modern conflagration! Glowing with vivid colors, blazing with witty pop culture references, burning with mystic symbols pillaged from world cultures, Bonefire shines with a profoundly 21st century light.
Here, each Wand has become a Thyrsus, a pine cone wand carried by the Maenads and Satyrs of Dionysus symbolizing prosperity and pleasure. Pentacles have become Coins. The deck's scenes and symbols are easy to read for those familiar with the Rider Waite Smith Tarot. For people new to Tarot, Bonefire may be easier to read than a traditional deck, with its current-day visual metaphors. Bonefire's art recalls the classic era of tattoos. Relying on the artistic strength of the images, the Bonefire Tarot comes with very succinct written material designed to spark the reader's intuition.
Voted one of the Ten Best Decks of 2013 by the Aeclectic Tarot Forum.
Screenshots
Just a taste of the beautiful and unique artwork of this deck.

Purchase for Apple Devices

Purchase for Android Devices
---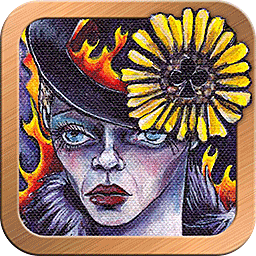 Features
*Intuitive, elegant interface is easy for beginners and experts
*Gorgeous full screen, high-resolution card images
*Full support for all devices on both iOS (6.0 or newer) and Android (4.0.3 or newer)
*Sophisticated journal
*Includes introduction and brief card meanings
*18 spreads built in
*Design your own layout with Free Form
*Allow reversed cards or not
*Option to use Major Arcana only
*Zoom in to enlarge card details
*Share reading via email, and on iOS via Facebook or Twitter
*Animated shuffle & cut
*Optional voice prompts
*Customize with your own card meanings & reading cloths
*Many adjustable settings
*Available in English only